Asking these 4 Questions can Solve 80% of your Conversion Rate Issues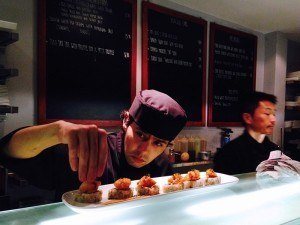 Do you remember the last time you went to a new restaurant? I'm talking about a really good one, the kind that's recommended by friends and trusted magazines, hidden down some quiet street in an up-and-coming area.
You might be wondering what this has to do with users' online behaviour but, trust me, thinking about the last fantastic restaurant you went to can be really quite enlightening and can teach you a lot about how to create a landing page for your website. People will be asking themselves 4 fundamental questions when they to go to a restaurant, just like they do online, and the answers to these
will determine how successful the experience is.
A restaurant has to put their new client's mind at rest and make them feel at home, show them what's on the menu and explain the specials, help them order and serve them without any issues, and have their customers so at ease that they'll even ask for the dessert menu.
This approach also applies to your landing page and we've identified 4 questions that will enable you to address 80% of the issues your customers may encounter when arriving there.
Before I go into detail: go to the landing page of your site, the one you use for your acquisition campaigns, and check if and how it answers these 4 questions.
1st question: Where am I?
'You're looking for this awesome restaurant you've heard so much about but it's difficult to find their entrance amongst all the shops."
On your website, visitors need to be reminded where they are and who you are. They're going to look for your logo or brand name on your top bar. So make sure your name and logo are clearly visible and easy to find.
The idea here is to trigger a sense of familiarity: visitors saw your banners or emails, clicked, and now the page shows a matching look with the same logo as the ones in your ads.
That triggers a state of cognitive ease. Your users don't even know it but they're experiencing the first stage of the "Mere-exposure effect" (a psychological phenomenon by which people tend to develop a preference for things merely because they are familiar with them)
So please, don't place banners or search bars right next to your company name – think of the top bar as your business card; if you fill it with unnecessary information, it's likely it'll end up in the bin.
2nd question: Why am I here?
"You have a pre-conceived idea of eating out at a restaurant and that means you expect to see an appropriate layout, with nicely set tables and people having dinner… all within a few seconds".
Microsoft led an experiment monitoring online behaviour. The results showed that 'the average attention span of people while on the Internet decreased from 12 seconds in 2000 to only 8 seconds in 2013, meaning 1 second less than a goldfish!'
A user who clicked on your ad will see your landing page and make an assumption in less than 8 seconds, that's why he has to quickly understand the link between the ad and your page's content to keep on reading.
Now, check your Bounce Rate in Google Analytics to have an estimate of how many users left as they did not understand your core message, i.e. they didn't see the connection between the ads and your website.
You have to be clear and specific to your user.
Nobody wants to know you're the best restaurant in town (they all say that). It's better to use something that will distinguish you from competitors: "Our sushi is made by a native Japanese chef, who was trained by the great Masa Takayama in his Michelin star restaurant".
Here are 3 simple techniques to remember:
1. Reveal your advantages in 3 points
3 points are enough to explain to your visitors the reason why they should pick you over your competitors and won't allow you to overwhelm them with information.
2. Be wary of the 'curse of knowledge'
Better-informed people find it difficult to think about problems from the perspective of less-informed people.
Here's a good example: a few months ago, I was on my way to DMExco in Köln, Germany. Prior to going I looked at the exhibitors' websites – all 891 of them.
Only 18 had clearly stated what they did and why I would want to work with them. The others either had used ambiguous and overly technical language or had given too little info to encourage visitors to call them to discuss their offer further. If I can't understand their offer why would I call?
Why put your users in a state of Cognitive Strain (a stressful state of mind that is explained well by Daniel Kahneman in Thinking, Fast and Slow. This state is usually triggered when our brain feels uneasy, as if something is out of place and it's forced to overwork itself to make sense of things) and put them off exploring your offers further?
So use terms anyone can understand, get straight to the point and don't write just to fill up your website.
3. Adjectives transmit emotions. Verbs inspire action.
Would you rather 'start saving 50% off your monthly bill' or see 'cheap options for your monthly spending'?
Verbs will also help to invigorate your content and avoid the excessive use of 'is', 'are' and so on (from Made To Stick and Writing Tips by Dr.Hewitt from Rice University, Houston).
3rd question: What should I do?
"You're in but now you're not sure if you should just grab a table or wait to be seated, do you order at the bar or is it table service, and will the menu be on the table or should you just grab one?"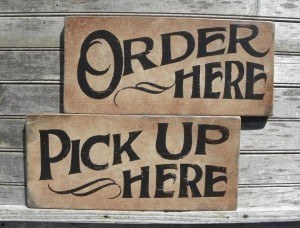 It's just the same on your website: visitors are on your page, they know who you are and why they're here.
So now you need to tell them what you want them to do. And don't be shy, say it loud:
You want their details? ASK them to fill in a form
Want to be called? ASK them to call you, or book a call with you
Want to show off your product? ASK them to watch a demo
The idea is simple: if you reduce the time a user spends thinking you'll reduce their Cognitive Strain. Just drive them down the right path.
4th question: Why should I do it?
"You're finally sitting at your table and start looking at the menu which has to be appealing enough to make you actually order something."
It's likely that you're not the only company offering your products or services.
How many websites do you think users have visited before landing on yours? Let's look at travellers for instance: on average they visit 38 different websites before booking their vacation and 81% of online buyers do some research before actually buying.
So the objective is: make sure your user doesn't go somewhere else and that they pick you over any of your competitors.
How to achieve this goal? Using incentives is a good option.
I include in this category anything that can separate you from the flock and help you trigger the Loss Aversion bias (the Loss Aversion principle is developed by Dan Ariely in Predictably Irrational and explains how the fear of losing something is twice more motivating than the possibility of gaining something).
What can you offer to your users to encourage them?
A free trial? Free next day delivery? 12 months of extra service? (Amazon Prime is a good example as it covers all 3 ideas).
Once you find the right incentive for your website, it'll increase your conversion rates and if done correctly it should increase your user value as well.
To conclude
My last suggestion is: if you want to know more, just study any behavioural psychology studies related to your field of work; Google Scholar is amazing for this.
It's also important to understand what made your user convert. There are tons of great tools for this like Qualaroos, MixPanel, HotJar and many others.
It's important to understand your user's needs and fears, and act upon them to deliver the best possible experience and incentives to help them convert.
Also, don't forget to always test your changes until you've reached statistically significant results.
If you have any questions feel free to contact me (philippe@convertize.com), I'm always happy to help.
Smart Persuasion starts here!
Convertize.io offers Behavioral Messaging, Personalisation, A/B Testing & Optimization for eCommerce, Travel and Saas websites